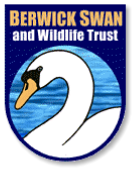 Wildlife - General
The RSPCA : well known animal welfare charity with

particular responsibilities for dealing with cruelty

against animals.
The equivalent of the RSPCA for Scotland.

Protecting Scotland's wildlife for present

and future generations.
Interesting site of a group promoting

wildlife in the Berwick area.

Lots of information on hedgehogs
and gifts from the "Hogalogue".
British Divers Marine Life Rescue. Charity run by

divers for rescue of marine animals e.g. seals, dolphins

and whales.
The Badger Trust. Promotes the conservation and
welfare of badgers. Currently much involved in

the bovine TB issue.

















Useful Web Links
Please click on any of the links below to visit related web sites.
Birds
The RSPB : protecting birds and their environment.

The Wildfowl & Wetlands Trust : Saving wetlands
and wildlife for people.

British Trust for Ornithology : Institution for

research into bird populations by observation
and ringing.

Swan and wildfowl rescue charity in

Middlesex.

A "must visit" attraction at North

Berwick with interactive cameras

on Bass Rock.

Others
Lots of information about farming and wildlife,

such as bovine TB etc.

Brilliant wildlife photography from a

BSWT member.